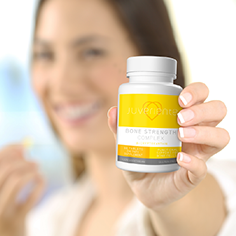 Have you ever heard of a bone supplement which actually support bone health from the cellular level? Voices of the users of Juveriente® Bone Strength Complex prove it is the one.
Listen to what others say.
(The followings are just a part of all reviews. Please visit Amazon.com for all the reviews there. )
I'm so excited about this product! (from Amazon reviews)
I was diagnosed with Osteoporosis earlier this year and immediately embarked on pursuing research to determine what option of care I would take. I watched a number of medical lectures as well as less professional talks and recorded what would best help my body. I was so excited when I came across this Bone Strengthening supplement by Juveriente as it was totally in line with the research that I had done!! I have had dealings with the company and they have been incredible to deal with as well in answering my questions. I feel confident that it will help my body in the way I desire!
Better Now (from Amazon reviews)
Worked for my Osteopenia (from Amazon reviews)
I had been diagnosed with osteopenia in my hips several years ago and had been taking calcium/magnesium supplements with little effect. I have now been taking Bone Strength Complex for 4 months and the results from my recent scan show perfectly normal bones, no more osteopenia! I had not really changed my diet or started exercising more, so it must be the Bone Strength Complex. I would definitely recommend this.
It strengthen your bones (from Amazon reviews)
Good product (from Amazon reviews)
I much prefer capsules as I do not like filler which comes with tablets. For a tablet it is easily digestible. I like the ingredients. I hope my body is actually absorbing most of it or it is a waste for me
If it's working & no side affects (from Amazon reviews)
Too early to rate product. Unfortunately will not know for 2 years, when I get another bone density test.
Wish they had a coating on the pills (from Amazon reviews)
I take this for bone health, my only issue is the pills need a coating they get stuck in my throat but I chew them up now so no more issues with getting stuck
Bones (from Amazon reviews)
came highly recommended (from Amazon reviews)
So far, so good (from an Amazon review)
So glad I came across this supplement. I definitely need to strengthen my bones as I am not very active and and don't eat enough healthy stuff to help with the bones. Looking forward to seeing what this supplement can do for my bones long term. Glad to know this was made in the USA.
If you purchased this product in the past 30 days, please leave and share your experience from the following.