A popular fruit in Japan, Satsuma Mandarin Orange – Mikan
Satsuma mandarin orange, called Mikan in Japanese, has been one of Japan's most popular fruits over a century. β-Cryptoxanthin is one of the carotenoids richly contained in Mikan by high concentration.
A Japanese rural town, Mikkabi-Cho, is a well-known town for Satsuma mandarin orange farming in Japan. Many residents are engaged in Mikan farming. Thus there is a wide range of people in terms of the Mikan quantity to eat. Some people eat far higher than the whole Japanese average, and others eat little.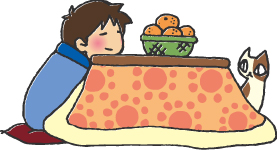 0.08 vs. 1.0: Osteoporosis Onset Ratio Difference
A Japanese public institute, the National Agriculture and Food Research Organization or NARO, has been conducting epidemiological researches in Mikkabi-Cho since 2003 and added bone density as a research item. They found the following facts by two cohort studies.
(Be noticed their studies are purely public and without any business intentions. )
(1) 2005: The research of 699 residents found a high correlation between the higher concentration of β-Cryptoxanthin in serum and the higher bone density.
(2) 2009: 4 years cohort study on 457 postmenopausal women found that people with the higher β-Cryptoxanthin concentration in serum had less tendency to be diagnosed with osteoporosis by 0.08 vs 1.0 comparing against the people with the low β-Cryptoxanthin density.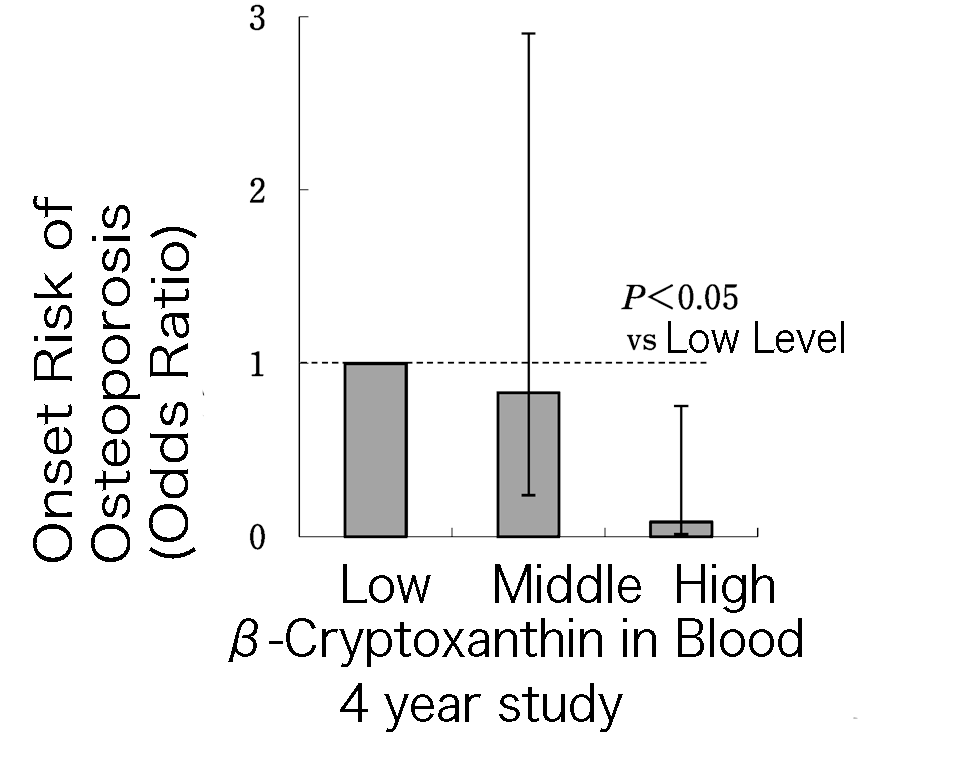 How is bone health maintained and osteoporosis occurs?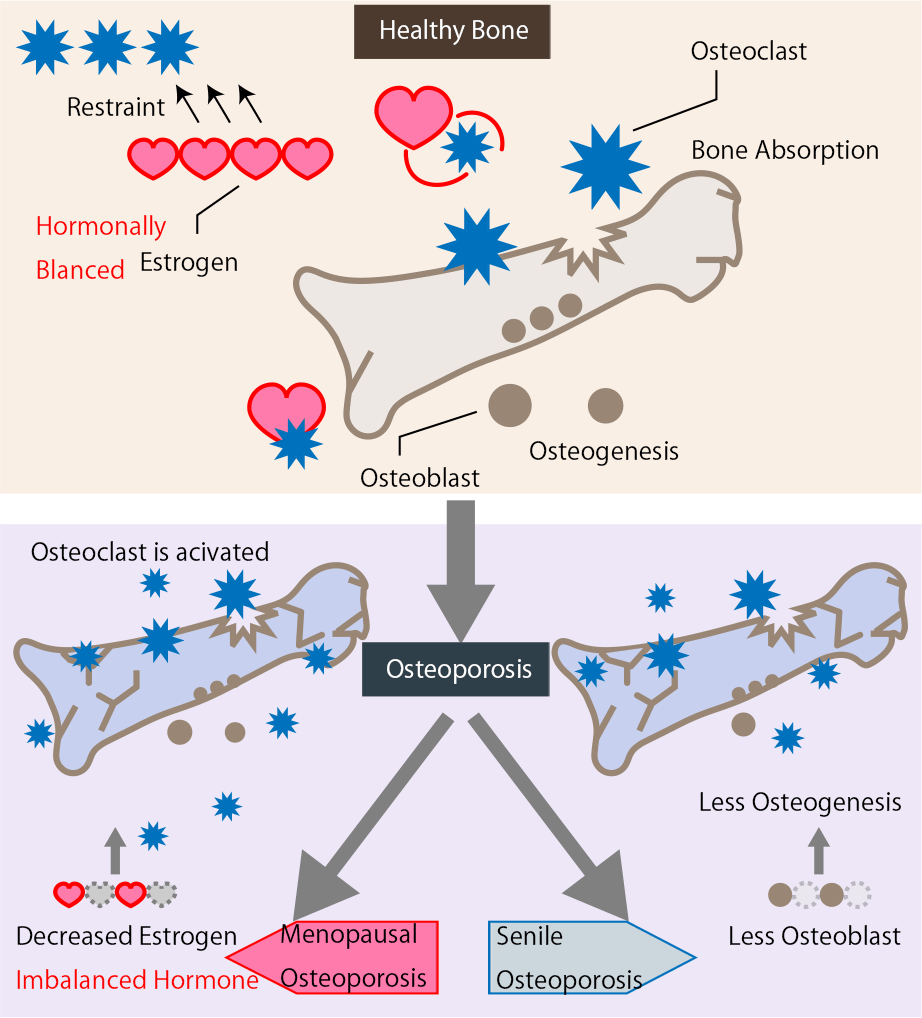 Bone cells don't exist as they were when you were born. They are subject to metabolism through bone absorption by osteoclast and osteogenesis by osteoblast in the right balance. (This system is called "remodeling.) But once the bone absorption over-paces osteogenesis for some reason, it occurs osteoporosis.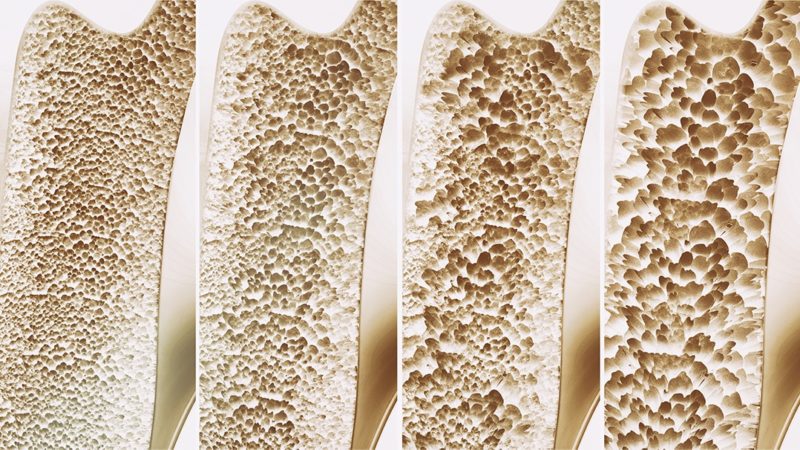 Estrogen, one of the female hormones, restrains born absorption. It decreases drastically at menopause and, as a result, born absorption over-paces osteogenesis to cause menopausal osteoporosis.
Conversely, osteogenesis slows and under-paces bone absorption, and it causes senile osteoporosis.
What do we have for bone health?
There are various bone supplements in the market. Still, most of them provide you only with the nutritional supports and the materials of the bone, which means, they don't address the root causes of the osteoporosis directly.
In the meantime, there are some medical treatments to rebalance the bone remodeling. Of course, you should have it in your mind that strong medicines often have side effect risks.
Side effects of bone medicines
The followings are the medicines by effect types and their possible side effects. (The following information is only quotations from various medical information sites. Please refer to professional medical sites or consult with doctors before you utilize it.)
Medicines to restrain bone absorption and reported side effects;


Bisphosphonate: Nausea or vomiting, loose teeth, and others. Very rarely osteonecrosis of the jaw. (This is a delicate issue, and please refer to medical websites dedicated to it. e.g., WebMD, Mayo Clinic, etc. )
SERMs (Selective Estrogen Receptor Modulators): Hot flashes, clamp, etc.

Medicine to facilitate osteogenesis;

Parathyroid hormone: Nausea, vomiting, tired feeling, etc.

Medicine to balance bone remodeling;


Activated vitamin D: Anorexia and fatigue by hypercalcemia, etc.
How Satsuma mandarin orange, Mikan, helped Mikkabi-cho residents?
Unitika Ltd., one of the major corporations in Japan, developed satsuma mandarin orange extract powder with enzyme treatment for better absorption as a health food ingredient, simultaneously when NARO did the researches.
Through rat experiments and clinical studies on human, they found
(1) β-Cryptoxanthin in Mikan curbs the bone absorption by restraining the osteoclast activity.
(2) β-Cryptoxanthin in Mikan encourage osteogenesis by boosting the osteoblast.
The dietary therapy which works on bone cells
All the above researches suggest that Satsuma mandarin orange, Mikan, helps your bone health from the cellular level. It will be worth trying this dietary therapy before jumping into the medical treatments. (But we always recommend you to place the priority on your doctor's advice. Dietary therapies are safe, but often moderate and may depend on each person's physical constitution.)
The problems is, how you can take several Mikans everyday. Moving to Mikkabi-cho? It is impossible as a matter of fact.
Only "dietary therapy package of Mikan" by Juveriente®
A proven bone health natural material, which was not introduced internationally
Juveriente®'s mission is to bring Japanese therapies to all the people. When we started the brand, we noticed there are no dietary supplements to contain the enzyme-treated Satsuma mandarin orange extract powder by Unitika Ltd. with the concentration as high as their clinical study, even in Japan.
Thus we decided to launch the Bone Strength Complex with the enzyme-treated Satsuma mandarin orange extract powder. We also blended popular vitamins and calcium to contain standard multivitamins for the bone.
The actual feedbacks have proven the effect.
Nobody knew the benefit of satsuma mandarin orange. And, it is not easy to feel bone health improvement without bone density scanning. So we were not confident if this product would be accepted.
Then three years have passed since the launch. It seems our concern turned to positive. We have already received a lot of voices of joy. We are happy to know that our decision to develop this "dietary therapy package." Here are some from Amazon.com.
there appears to be new bone growth according to my doctor
"Juveriente Bone Strength Complex was highly recommended by a friend of mine who eliminated her osteopenia in just a few months. She had it very well documented with bone density tests. I am at my fourth month of trial. I suffered a fracture of the femur last year, had a hip replacement and am still monitored with x-rays every few months. There appears to be new bone growth according to my doctor. I am happy and will continue using it."
The results from my recent scan show perfectly normal bones
"I had been diagnosed with osteopenia in my hips several years ago and had been taking calcium/magnesium supplements with little effect. I have now been taking Bone Strength Complex for 4 months and the results from my recent scan show perfectly normal bones, no more osteopenia! I had not really changed my diet or started exercising more, so it must be the Bone Strength Complex. I would definitely recommend this."
Knee started to healed
"Knee started to healed after 2years of pain.
Fell at work."
Improvement when I had my bone density test
"Great product. Had osteopenia. Improvement when I had my bone density test. Haven't tried the capsules yet. The tablets were fine for me.
This is a wonderful product. Tried the capsules. Just like the tablets, they're fine. In fact a little easier to swallow. Like the fact, the Juveriente contains strontium which helps the absorption of the calcium. I used to have to take it separately. My bone density tests have shown an improvement of the density of my left hip."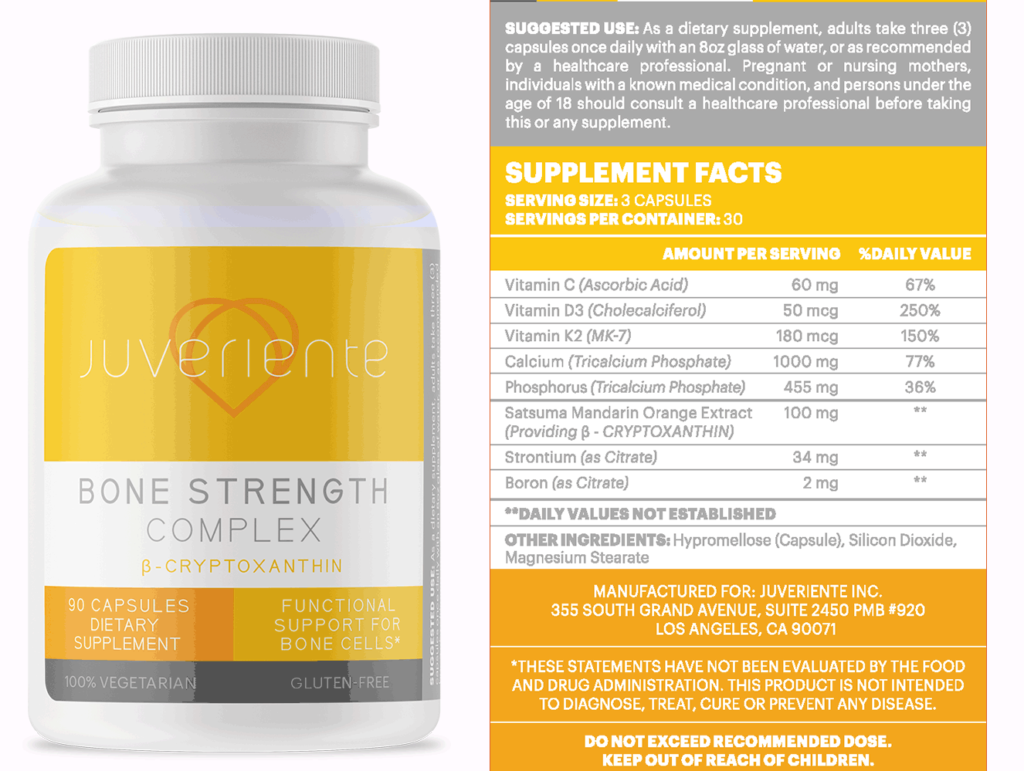 Remarks;
Juveriente®'s Bone Strength Complex is a complex of natural foods, and β-Cryptoxanthin will bring you the health benefit Japanese people are enjoying by eating Satsuma mandarin orange. It may deliver the visible effect to you very soon within a few month, but maybe it takes more. Please take your time and wait for the moderate but firm improvement of your health.
It may deliver the visible effect to you very soon within a few month, but maybe it takes more. Please take your time and wait for the moderate but firm improvement of your health.