The Connection Between Alcohol and Aging
The connection between alcohol and aging is a topic of interest for many, as people are curious to know if alcohol consumption might lead to accelerated aging. Scientific studies have shown that excessive alcohol consumption can contribute to premature aging, while moderate alcohol consumption may have some health benefits.
Alcohol can affect aging in various ways, including causing damage to DNA, inflammation, and oxidative stress, which can ultimately lead to signs of aging such as wrinkles, reduced skin elasticity, and age-related diseases. In addition, heavy alcohol use can negatively impact organs like liver, heart, and brain, resulting in decreased function over time.
However, it is important to note that moderate alcohol consumption, particularly red wine, has been associated with certain health benefits such as improved heart health, due to its antioxidant content. Thus, it is essential to consume alcohol responsibly and in moderation to minimize potential negative effects on aging.
How Alcohol Accelerates Aging Process?
Alcohol can accelerate the aging process in several ways, mainly due to the stress it puts on various body systems and the production of harmful substances. Firstly, excessive alcohol consumption can cause dehydration, which negatively affects skin elasticity, making it more prone to wrinkles and sagging. Secondly, alcohol is known to cause oxidative stress, generating harmful free radicals that damage cells, tissues, and organs – including skin – and contribute to the aging process.
Additionally, alcohol can impair the liver's ability to remove toxins from the body, leading to a buildup of harmful substances and further exacerbating oxidative stress. Furthermore, heavy drinking can also disrupt sleep patterns and interfere with the production of human growth hormone (HGH), which is essential for repair, regeneration, and overall cellular health.
How Alcohol Affects Your Skin?
Let's take a close look at how alcohol affects your skin.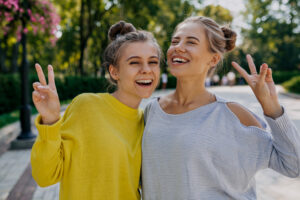 Alcohol consumption can have several negative effects on your skin and may cause you to appear older than you actually are. It can lead to dehydration, which makes your skin dry, dull, and more prone to wrinkles. Alcohol is also known to cause inflammation, resulting in redness, puffiness, and potential breakouts. It may also damage your collagen production, a key component in maintaining skin elasticity, contributing to sagging skin and the formation of fine lines. Furthermore, alcohol can dilate blood vessels, causing visible spider veins, and negatively affect nutrient absorption, which can lead to a lack of essential vitamins and minerals needed for healthy skin.
Common Signs of Aging Due to Alcohol Consumption
Alcohol consumption can indeed lead to premature aging as it affects various aspects of our physical and mental well-being. Common signs of aging due to alcohol consumption include:
1. Dehydration: Alcohol is a diuretic, which causes dehydration. This can lead to dry, wrinkled, and sallow-looking skin.
2. Nutrient depletion: Alcohol hampers the absorption of essential vitamins and minerals causing nutritional deficiencies that contribute to aging.
3. Liver damage: Excessive alcohol intake can cause liver damage, which in turn affects our body's ability to detoxify and metabolize nutrients properly.
4. Cognitive decline: Long-term alcohol consumption can result in cognitive impairments and memory loss, accelerating the aging process.
5. Weight gain: Alcohol contributes to weight gain by increasing caloric intake and decreasing metabolism.
Alcohol and Aging: The Cellular Level
Oxidative Stress and Aging from Alcohol
Alcohol consumption can contribute to accelerated aging due to the increased oxidative stress it causes on the cellular level. Oxidative stress occurs when there is an imbalance between free radicals and antioxidants. Free radicals are toxic molecules that can damage the cells in our body, leading to various health problems and aging.
When alcohol is consumed, it generates free radicals, which can lead to oxidative stress. Over time, this damage accumulates, resulting in the breakdown of proteins, lipids, and DNA within cells, contributing to premature aging and age-related diseases. In addition to oxidative stress, alcohol can also contribute to inflammation, alter hormone levels, and impair cellular repair mechanisms, all of which are associated with the aging process.
Therefore, excessive alcohol intake can indeed make you age quicker, not just visibly on the skin but also internally on the cellular level.
The Impact of Alcohol on the Cardiovascular System
Alcohol can have both positive and negative impacts on the cardiovascular system. Moderate alcohol consumption, particularly red wine, has been associated with a reduced risk of heart disease due to its high antioxidant content. However, excessive alcohol intake can lead to an increased risk of cardiovascular problems, such as high blood pressure, stroke, and heart failure.
In terms of aging, excessive alcohol consumption can contribute to premature aging, as it can cause oxidative stress and inflammation, which can damage cells and tissues throughout the body, including the cardiovascular system. This damage can negatively affect the heart's function and increase the risk of cardiovascular diseases.
Overall, while moderate alcohol consumption may provide some health benefits, excessive alcohol intake can have detrimental effects on the cardiovascular system and contribute to premature aging.
Alcohol and Hormonal Imbalance
How Alcohol Affects Hormones Linked to Aging
Alcohol can indeed contribute to premature aging by causing hormonal imbalances. It primarily affects hormones linked to aging, such as growth hormone (GH), insulin-like growth factor 1 (IGF-1), cortisol, and melatonin.
GH and IGF-1 play essential roles in tissue growth, repair, and regeneration. Chronic alcohol consumption impairs GH secretion and reduces IGF-1 levels, leading to decreased muscle mass, frailty, and slower healing.
Cortisol, a stress hormone, is elevated with excessive alcohol intake. Its long-term elevation can lead to immune system suppression, increased inflammation, and accelerated aging.
Melatonin is crucial for regulating sleep-wake cycles, and its disruption by alcohol can cause sleep disturbances and contribute to premature aging.
In summary, alcohol affects hormones linked to aging by disturbing the balance and coordination between them. This hormonal disruption can lead to an acceleration of the aging process, making one appear and feel older than they actually are.
Can Reducing Alcohol Intake Reverse Aging?
Reducing alcohol intake can potentially slow down some aging-related processes, but it cannot reverse aging altogether.
By moderately consuming or avoiding alcohol, you can minimize its negative effects on your body and maintain a healthier lifestyle. This may lead to improved skin appearance and overall well-being.
However, it is essential to note that aging is a natural process that cannot be reversed. Engaging in a balanced diet, regular exercise, and adequate sleep would also contribute to healthier aging.
Tips for Healthier Drinking and Skin
To maintain healthier drinking habits and promote better skin, follow these tips:
1. Moderate consumption: Limit your alcohol intake to one drink per day for women and two for men, as per recommended guidelines.
2. Stay hydrated: Alcohol dehydrates the body, which can lead to dry, dull skin. Drink plenty of water while consuming alcohol to counteract dehydration.
3. Choose wisely: Opt for beverages with lower alcohol content, such as wine or light beer, to reduce potential skin damage.
4. Sip slowly: Enjoy your drink slowly, allowing your body more time to metabolize the alcohol.
5. Nourish your skin: Consume a balanced diet rich in antioxidants, vitamins, and minerals, which can help keep your skin looking its best.
Summery
Alcohol can make you age quicker. Drinking in moderation may help reduce the negative effects, but excessive alcohol consumption should be avoided for maintaining a healthier and more youthful appearance.
Take care of the issues discussed here and enjoy your drinking moderately!
Balance Your Hormone with a Natural Supplement
Juveriente®'s Effisoy, launched in 2016, based on fermented soy bean germ extract has been loved as a natural menopause relief since its launching in 2016. 
Its primary function is to boost the weakened synthesis of a hormone precursor, DHEA. It helps the precursor, DHEA. Rebalancing the precursor will eventually recover your hormones in line with your natural balance. It will help you refresh your various functions for your beauty and help your anti-aging in various issues. 
Here are some of the real product reviews in our Amazon shop.
"Restful sleep finally!!", "I Am Now Free of Hot Flashes!!", "Lifesaver"