Aging nail health care from the inside and outside
"Aging changes in nails are a natural phenomenon and cannot be avoided entirely. However, there is no need to give up. It is possible to delay the changes due to age depending on how you do nail health care. Here we show you how to care for your nails to keep them vibrant!
Lively nails start with a healthy mind and body.
The age-related changes in nails don't happen only from issues in nails but are related to the entire body's condition, including internal organs, blood vessels, and hormones. First, it is most important to keep the body lively and healthy. It requires care from the inside as well as the outside.
Sound sleep and nail health care
First, make sure you get enough sleep. It will promote good skin metabolism and regeneration and maintain healthy nails.
Right eating for your nail health care
Also, remember that you should balance the daily diet and take in the nutrients necessary for your nail health care. Among them, zinc and iron are often deficient in the average diet. Supplements may be a way to supplement the nutrients you cannot get from your diet.
Take care of moisturizing and protecting your nails in your daily care
Moisturizing and protection
Moisturizing and protecting are vital for nail health care. Aged nails are prone to dryness and many problems.
During the day, moisturize your hands and fingertips with hand cream or lotion, and moisturize your nails with nail oil. The oil helps protect the nail's surface, which has become dry and brittle. Before bed at night, it can also effectively prevent nail problems with a repair liquid containing nail protection ingredients.
Increase blood circulation in your fingers with a massage!
Promoting blood circulation in the fingers will improve nutrient delivery to the toes. The following is a simple hand and nail massage for your nail health care. Doing one set of the following 1 to 3 a day while bathing improves blood circulation.
(This sentence mentions Japanese-style bath time. Another article, "Bad Circulation Improvement by Footbath / Wisdom of Japanese Bath Culture 2023" suggests you an alternative. ")
1. Wrap the entire hand with the palm of the other hand and massage the whole hand from the back of the hand to the fingers and fingertips.
2. Pinch the root of the finger with the thumb and index finger of the opposite hand and push.
3. Hold the top and bottom of the nail with the thumb and index finger of the opposite hand and push.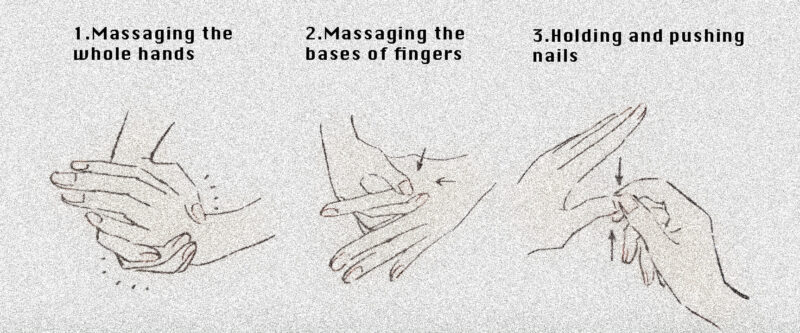 The Natural menopause supplement with excellent reviews in Amazon
A natural and safe menopause supplement will be worth trying even if only to address your hormonal imbalance for nail health care. Juveriente®'s Effisoy, launched in 2016, brings you the essence of Japanese women's health. Some clinical researches have reported that Japanese women have far lighter menopause experience. One of its key is Miso, fermented soy paste. It is a commonsense in Japan.
Fermented foods are often hard to eat for people of other dietary cultures. But you can take the essence easily through the supplement. Effisoy is the only supplement brand to bring you fermented soy extract outside Japan. This is only a natural food and we don't call it "a therapy", but it may be only one we can nearly call a "natural hormone therapy".
Here are some of the real product reviews in our Amazon shop.
"Restful sleep finally!!", "I Am Now Free of Hot Flashes!!", "Lifesaver"